december 10th, 2014
Yah so maybe brain surgery after all. I had two doctors appointments in the last week: one with neurologist Nussbaum, one with neurosurgeon Chef.
Nussbaum less endearing this round. The blood tests he'd ordered came up normal, which means: no infection, no weird vitamin deficiencies, no thyroid problems. Most of my symptoms have been on the decline since I joined a gym at the end of October. I'm on that recumbent bike like a middle-aged man fresh from divorce court.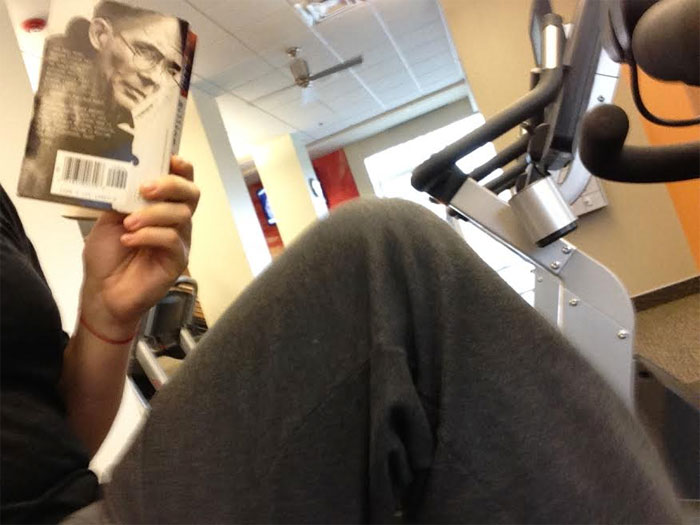 But why still the lingering tinnitus, eustachian pressure, and occasional headaches/neckaches/numbness?
"The human body! What can I say?" Nussbaum shrugged. "Talk to a neurosurgeon," he said. "I can tell you that your symptoms—I have patients who don't have shunts, experiencing all those same things."
"Call me if it gets worse," he said.
On Monday I saw Chef: the best doctor all fall, best of them all. Fourth doctor's the charm! My mom asked how he ranks with Bednar, my pediatric neurosurgeon in 1995. I said Chef is not at that highest light, but he's close. Real close. Mom was impressed.
Chef pushed the valve on my shunt. The valve is like a button on the back of my head where the internal shunt (the straight part that sticks into my brain) meets the tubing (which runs down the side of my neck and drains ambiguously in my belly).
He confirmed two things: one, that the valve was filling too slowly. I'd observed the slow refill in September, but wasn't sure if maybe at age 32 cerebral spinal fluid flow isn't what it was at age 12. The slow refill indicates a shunt malfunction—possibly clogged with choroid plexus like in 1995. I wasn't able to parse his answer as to why, then, my ventricles weren't blowing up on the MRI like in 1995, but I guess shunt malfunction can still yield slightly below average-sized ventricles, which I have.
Second, he confirmed that the tubing in my neck feels a little weird and stiff. This was something I'd also noticed, but couldn't confidently empirically say if was actually happening. Like I'd have a bad headache in October and be afraid and touch my neck and the tubing would feel like it was kinda bulging out of my skin, and then I'd be like, well, is this perception a function of anxiety? Couldn't even reliably say when it was first noticeable. Five months ago? Five years ago?
Chef said that with older shunts placed in the '80s and earlier, the tubing sometimes cracks or disintegrates. I LAUGHED at that. DISINTEGRATES HaHa! Chef did not laugh with me. Chef keeps it tight.
I've been feeling so much better, and especially good on Monday, so we didn't do a spinal tap. Instead Chef ordered a CAT scan in March along the entire length of the shunt. Then we'll see if there are cracks or breaks or clogs not visible on an MRI. Then maybe there'll be a shunt revision or shunt removal (brain surgery).
Couldn't parse Chef's answer as to how a shunt removal prevents my ventricles from blowing up like they did in 1991. He mentioned that by now, if the tubing were removed, a natural channel would exist for CSF to flow. But then that natural channel might get scarred over and I was like, so wait, then what happens? But Chef moved on. You must forgive me for not pressing him for an answer—I have a brain tumor :)
By the way: when she was taking my history, Chef's fast-talking nurse practitioner said, "I see there's a glioma—when was that removed?" and I was like, "uhhhhhhh never! The glioma is a part of me now," and then she stopped fast-talking for a sec.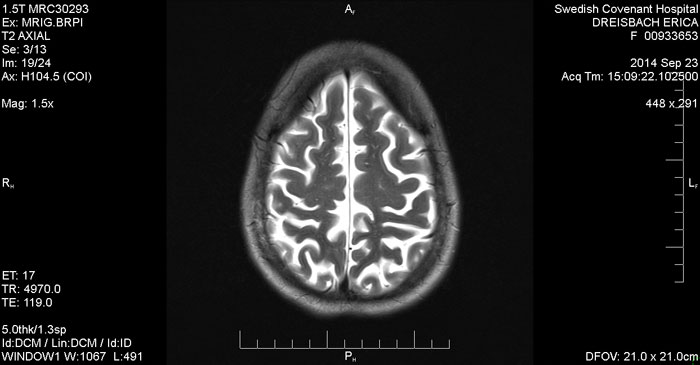 Alarming that ... I'm an Ivy League-educated daughter of a doctor, with health insurance, a very flexible schedule, a supportive network of partner-friends-and-family, and an assertive personality. And it was still a fight to get here. Calling doctors offices every week for the last 14 weeks. Faxing. Insisting. "I must insist!" How is this system serving those less privileged and empowered? (read: what the fuck, you guys?)
Meanwhile, I feel happy. At last: diagnosis. At last: a plan. I might crash in the near future (oh fuck: brain surgery). For now, everything is chill.
Also, if and when it comes to knife-time with Dr Chef, know that: in 1995 after brain surgery I went home the following day. Fast and full recovery. We don't have to be worried for me :)