october 1st, 2013.
Getting ready for Halloween.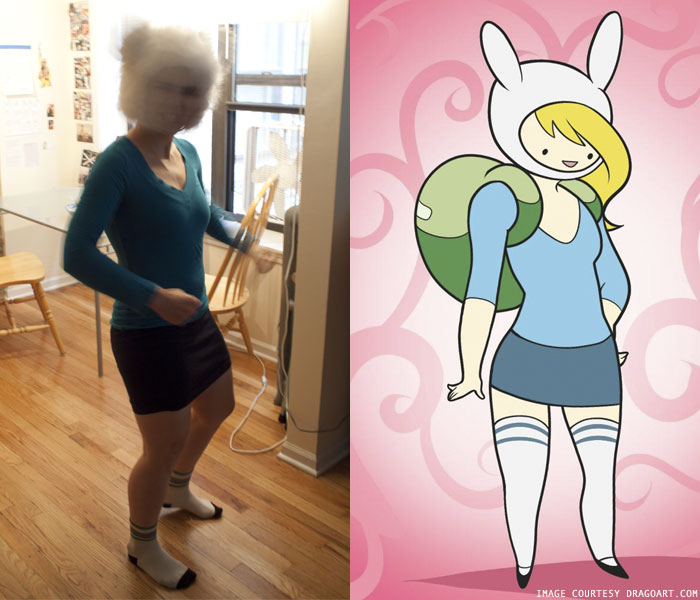 For the uninitiated: there's a cartoon show called Adventure Time that Vlad got me into. It's about Finn the Human and his companion Jake the Dog in the magical world of Ooo, which is a post-apocalyptic Earth many years after the devastating Mushroom War.
Well. To clarify: the show doesn't say explicitly that humans destroyed the planet in a nuclear holocaust. It just leaves hints. But such hints pointing to the darkness are what make Adventure Time so transcendent. Mm!
Unrelated to the compelling nuclear holocaust aspect, but maybe even like more compelling, in this one episode of Adventure Time, with no explanation, all the characters present as reverse gender. Finn is Fionna. Jake is Cake the cat. Princess Bubblegum is Prince Gumball, kai, ta, loipa. Delightfully, the gender-swapped characters are nearly unchanged in personality. The episode doesn't milk gender stereotypes for humor. Fionna is the same hardcore bitchin warrior Finn is. Just with, like, more bodacious legs.
So it's a pretty regular episode about foiling one of the Ice Queen's wicked plots. And then, right at the very end, it smash cuts to the Ice King's lair, and we see Finn and Jake trapped in some ice, and the Ice King says, "so, what did you think of the fan fiction I wrote about you guys?"
This episode aired and the Internet lost. its mind. I, also, lost my mind. Just think how you would react if one of your favorite shows had a gender swap episode! Whitney White, partnered with Jessie Pinkman, hoping her husband Sky won't figure out about the meth. Sky fears what Whitney's become, and Whitney with a wicked fire in her eyes tells him, "*I* am the one who knocks!"
Donna Draper smoking, drinking, seducing. Young Pauly Olson whines, "you never say thank you!" and Donna roars back, "that's what the money's for!"
Janey McNulty of the Bal'more City Police, always giving a fuck when it's not her turn to give a fuck. (Spoiler alert, Janey: it's never your turn to give a fuck)
I could do this all day! One more: Buddy the vampire slayer's stereotypically airheaded looks are balanced with snarky humor, supernatural judo, and a fundamental alienation from his high school classmates softened by his loyal friends: shallow but popular Chas, dopey Amazonian Alexa, wizardly Will, and refined British mentor Gillian.
So this Halloween, my costume will be recognized by a rare few. But the few who do will be very, very happy. Oh, and Vlad will be going as Marshall Lee, the Vampire King. Minimal costume will be required.